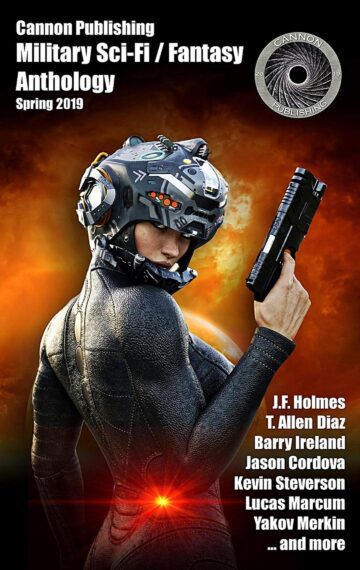 $2.99
Buy Now
Read A Sample
See The Reviews
Publisher:

Cannon Publishing, LLC

Available in:

Kindle, Kindle Unlimited, Print

Pages:

311

Published:

April 1, 2019
The military experience is timeless, and echoes down from our past and into our future. Along the way, not everything is as it seems. Thirteen stories from established and new writers in the field of Military Science Fiction and Military Fantasy bring you tales of the terrors of combat and the even greater fear of the unknown in Cannon Publishing's first Bi-Annual Military Anthology.
Alex Piasecki ~ During the Iraq War, a United States Marine Corps fire team goes to the rescue of a young boy and encounters an ancient evil. It will take massive firepower and violent action to get out alive, if they can. A Joint Task Force 13 story.
Lucas Marcum ~ Trapped in the hull of a badly damaged starship, a young sailor must make difficult decisions to save her ship and her crewmates. A story set in the best selling Valkyrie universe.
David Castlewitz ~ Set in an alternate universe where World War One is fought in the southwest U.S., "Saving the Monica Korn" tells the story of a lone German battlewagon and its battered crew. Although desperate to get back to his own lines, the commander must first rescue a German agent with information that is vital to the war effort.
Jason Weiser ~ A French Foreign Legion officer feels the weight of tradition weighing on him on a far distant planet. As his platoon battles a merciless enemy, he comes to understand what the price of a last stand can be.
T. Allen Diaz ~ Sergeant Jimmy Dix has spent a lifetime in the Great War of Survival against a reptilian foe from the far side of the galaxy. When he is caught in the losing siege of Haven, all hope seems lost. Can he and his squad survive this hellish nightmare? And, how will humanity ever pay its debt of honor?
Chris Morton ~ Soldiers on the battlefield, killing aliens who must be extinguished before colonization can begin. Day after day, they wait for night to come, for the next fight. The waiting has become worse than the combat itself.
Kevin Steverson ~ Even as humanity struggles to defeat an alien enemy deep in space, battles are still being fought amongst ourselves. Advances in technology might be the key to victory, if a soldier can survive long enough to use it.
James Schardt ~ A new accountant with minor magical skills is hired to find a problem with military supply shipments. He quickly gets in over his head.
Barry Ireland ~ A man searching for military relics in the mud of the river Thames finds a strange canister that he cannot open with any tool that exists. An enigmatic German appears, opens it easily and reveals a long hidden Nazi secret.
Jason Cordova ~ Out of time, the war for Earth rages as scientists struggle to stop two cataclysmic events from happening simultaneously, and possibly save the world while they're at it.
Michael Morton ~ A pair of military investigators searching for WMD in a hidden laboratory in post-invasion Iraq find more than they bargain for when they discover who is behind their grisly discoveries.
Yakov Merkin ~ . Another day at the most boring, dead-end job in the Galactic Alliance's Legion Navy turns out to be the day that you might get killed.
J.F. Holmes ~ The Post-Apocalyptic world may be a hard place, but you survive by watching each other's backs out of loyalty and love. An Irregular Scout Team One story.