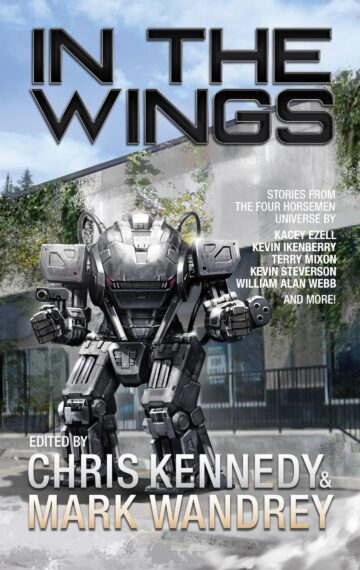 $4.99
Buy Now
Read A Sample
See The Reviews
Buy The Audiobook
Editor:

Chris Kennedy, Mark Wandrey

Narrator:

Daniel Wisniewski

Available in:

Kindle, Kindle Unlimited, Audiobook, Print

Pages:

544

Duration:

15 hrs and 40 mins

ISBN:

978-1648551864

Published:

July 6, 2021
Fifteen outstanding authors. Fourteen extraordinary stories. One bestselling universe.
It's the Twenty-Second Century. The galaxy has opened up to humanity as a hyperactive beehive of stargates and new technologies, and we suddenly find ourselves in a vast playground of different races, environments, and cultures. There's just one catch: we are pretty much at the bottom of the food chain.
Enter the Four Horsemen universe, where only a willingness to fight and die for money separates Humans from the majority of the other races. Enter a galaxy not only of mercenaries, but also of aliens, hired assassins, and accountants. Accountants?
Edited by bestselling authors and universe creators Mark Wandrey and Chris Kennedy, "In the Wings" brings you a variety of all-new stories in the Four Horsemen universe showcasing characters that—until now—have always been one step out of the lime light. The fifteen authors bring you looks at some of the universe's minor characters, giving you additional insight into what truly makes the universe tick…and some additional information you won't get anyplace else!
Inside you'll find:
"A Night on the Town" by Kevin Ikenberry
"Alive and Well" by Kevin Steverson
"Embrace the Void" by Marisa Wolf
"Monster at the Gate" by Tim C. Taylor
"Oogars, Guns, and Credits" by William Alan Webb
"Second Fiddle Carries the Tune" by Jon R. Osborne
"Sugar and Spice" by Terry Mixon
"The Price of Pride" by Chris Kennedy
"Friends with Benefits" by Mark Wandrey and Kacey Ezell
"Barn Find" by Richard Alan Chandler
"Field Promotion" by Nick Steverson
"Lucky Beginnings" by Zachary Ritz
"Playing the Game" by David Shadoin
"The Audition" by Casey Moores