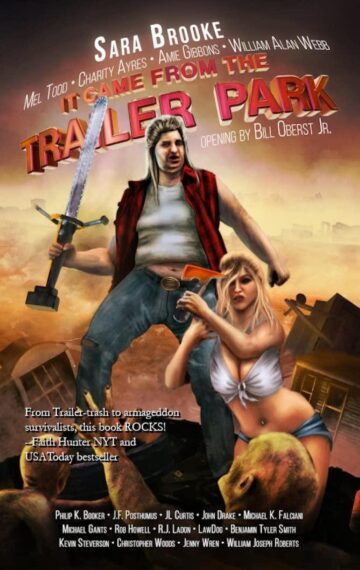 $4.99
Buy Now
Read A Sample
See The Reviews
Buy The Audiobook
Narrator:

Talon Beeson

Available in:

Kindle, Kindle Unlimited, Audiobook, Print

Pages:

588

Duration:

17 hrs and 48 mins

Published:

October 19, 2021
Do you love sparkly vampires? Well too bad, because you won't find a single one of those fancy-dancy bloodsuckers anywhere in this collection!
It Came From The Trailer Park began as a fun idea to revisit the Classic Horror and Old-School Creature Feature genres with a hefty helping of B-rate tropes thrown in for good measure. Who doesn't love a good Bruce Campbell or classic Vincent Price flick on a dark and dreary night?
Emmy award winner Bill Oberst Jr. opens the collection and sets the stage for the stories to come. From aliens to demons to werewolves and so many more, you're sure to fall in love with these tales of the Macabre.
So come on in. Take a load off. And get yourself ready for nineteen unforgettable tales, straight from the Trailer Park.
Stories written by: Sara Brooke, Mel Todd, Charity Ayres, Amie Gibbons, William Alan Webb, Philip K. Booker, J.F. Posthumus, JL Curtis, John Drake, Michael K. Falciani, Michael Gants, Rob Howell, R.J. Ladon, LawDog, Benjamin Tyler Smith, Kevin Steverson, Christopher Woods, Jenny Wren, and William Joseph Roberts.
From Trailer-trash to armageddon survivalists, this book ROCKS!
–Faith Hunter NYT and USAToday bestseller