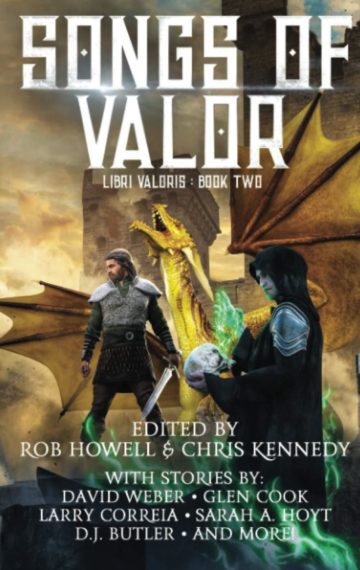 $4.99
Buy Now
Read A Sample
See The Reviews
See The Full Series
Available in:

Kindle, Kindle Unlimited, Print

Pages:

543

Published:

March 17, 2021
Fifteen tremendous authors. Fifteen extraordinary stories. One outstanding anthology.
It is a time of high adventure! A time for heroes to say "No!" to the evils that will befall their families and friends if they don't rise to the task at hand…even if they don't want to! If they won't take up arms and spells on behalf of their people, civilization will fall.
Fifteen exceptional authors have spun tales of reluctant heroes—people often like you and me, who didn't think they were worthy, needed, or even "the right one for the job." Sometimes all they have going for them is that they're the wrong person at the wrong time. When there's no one else, though, a hero must do what's necessary, whether that's fighting demons, the undead, or an unconquerable enemy.
Songs of Valor focuses on heroes rising to the challenge presented them. An untrained human facing an ancient dragon. A necromancer fighting a demon in the land of the elves. A dragon rider well past her prime coming back to protect the ones she loves. An over-the-hill fighter who does what he must to stem the tide of evil.
Inside are fifteen incredible stories of heroes rising to the occasion. Their willingness to brave the peril, though, doesn't guarantee their success. If their valor should fail, all indeed will be lost! Will they succeed? Step inside and find out!
With stories by:
David Weber
Glen Cook
Sarah A. Hoyt
Larry Correia
Jon R. Osborne
Kevin Steverson
Quincy J. Allen
D.J. Butler
Chris Kennedy
Rob Howell
Benjamin Tyler Smith
Melissa Olthoff
Jamie Ibson
Casey Moores
J.P. Chandler