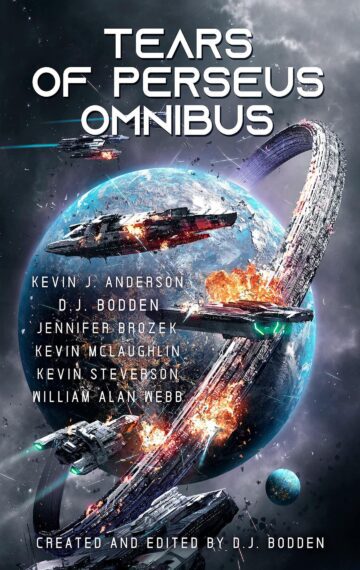 $9.99
Buy Now
Read A Sample
See The Reviews
See The Full Series
Publisher:

Shadow Alley Press

Available in:

Kindle, Kindle Unlimited, Print

Pages:

726

Published:

April 11, 2023
Is This the End of Humankind, or the Beginning of Something New?
Humanity spread to the stars as soon as they broke the FTL limit, but a thousand lightyears weren't enough to separate them from their natures. As a series of small incidents lead Earth and its colonies toward a galactic civil war, it's up to people and AIs of good intent to pull us back from the brink.
But what if it's already too late? As the super artificial intelligences sound the death knell of the galaxy, a few humans and machines struggle against the tide, to save their ship, their farm, their families, and their cause. In humanity's darkest hour, the lives of a few heroes might make the difference, or serve as an epitaph for our species.
Buy it today to find out how we survived and if the beings that emerged from the nuclear fire were worth saving. Features an additional foreword by D.J. Bodden and three short stories not included in the individual novellas.
Tears of Perseus is one cohesive story told in six parts by six authors:
Truumeel's Light: A high-risk first-landing on an unsettled world.
Falk's Claim: A retired cybernetic soldier defending his claim against offworlders.
Mercia's Hammer: A daring prison escape, striking a blow for freedom in the colonies.
Metzler's Mistake: A final mission given to the Federal Fleet's craftiest admiral.
Raden's End: A surprise attack from a new enemy, forcing old foes to fight together.
Halloway's Charge: A choice to turn on each other or rise together from the ashes.
Written by Jennifer Brozek (Shadowrun, Battletech), Kevin Steverson (Salvage Title, 4HU), William Alan Webb (The Last Brigade, 4HU), D.J. Bodden (FiveFold Universe, Viridian Gate Online), Kevin J. Anderson (Star Wars, Dune), and Kevin McLaughlin (Starship Satori, 4HU), this omnibus combines life in the third millennium with all the space, air, and land high-tech combat you can handle.