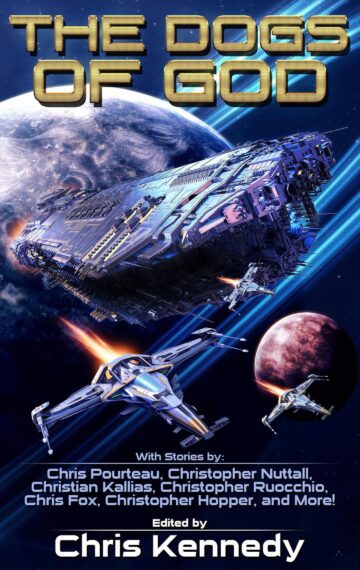 $4.99
Buy Now
Read A Sample
See The Reviews
Publisher:

Theogony Books

Editor:

Chris Kennedy

Pages:

675

ISBN:

1950420965

Published:

March 3, 2020
16 Amazing Authors, 16 Incredible SciFi Stories, 1 Great Name
From Allen to Woods, inside are some of the biggest and best names in Scifi, who have all come together under the banner of a name—Chris. What's in a name? Some of the best SciFi out there! The stories are awesome, and it's all science fiction…according to Chris!
While there are other names that may have done okay in the past, this book takes you through the incredible imaginations of the authors who are hot right now! Fly along with Chris Fox in the cockpit of an Inuran spellfighter, hold back the squibs on the firing line with Christopher Hopper, and journey with Christopher Ruocchio's assassin as he goes to kill a king.
Other stories in this volume will have you saving the Earth from the cockpit of a gunboat in space, fighting off an invasion of Earth hand-to-hand, and piloting a mech when pirates land on your world. What would you sacrifice to change the lives of your family and friends? How do you stop an unknown assassin who's come to kill the children you're protecting? Come inside and find out!
Two things are certain—you can be sure that you're getting the complete and consummate Chris in The Dogs of God…and it's going to be great! Even the cover art is according to Chris!
With stories by:
Chris Fox
Chris Pourteau
Christopher Ruocchio
Christopher G. Nuttall
Christopher Hopper
Christian Kallias
Chris Kennedy
Chris Ficco writing as Quincy J. Allen
Chris Dietzel
Christine Gasbjerg
Christopher Woods
Chris J. Pike
Chris Reher
Chris A. Jackson
Chris Maddox
And Kevin Steverson to show you, "Chris Was Here"